Welcome to
The Grand Tour Wiki
Jeremy Clarkson, Richard Hammond and James May are back with The Grand Tour after a small, hardly worth mentioning fracas cut short their time on BBC Top Gear. The Grand Tour is a show about adventure, excitement and friendship… as long as you accept that the people you call your friends are also the ones you find extremely annoying. Sometimes it's even a show about cars. Follow them on their global adventure. What could possibly go wrong?
Episodes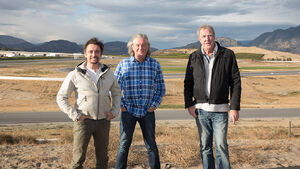 Air date: 9th February 2018
The Cotswolds, United Kingdom
Jeremy Clarkson
,
Richard Hammond
, and
James May
head to Canada for a shootout between a trio of new SUVs from Porsche, Alfa Romeo, and Range Rover, in a series of tests that involve a pack of dogs, a rodeo pen, and a race over the frozen mountains of British Columbia. Also in the show,
Celebrity Face Off
sees Paris Hilton and Rory McIlroy battling it out and Clarkson tests the Tesla Model X.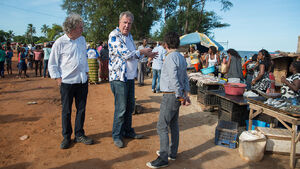 Air date: 16th February 2018
Mozambique
In a special episode,
Jeremy Clarkson
,
Richard Hammond
, and
James May
embark on an epic quest to solve world hunger by setting up a first-transportation business in Mozambique. With Clarkson in a pickup, May in an old Mercedes, and Hammond on a motorbike, chaos quickly ensues as the trio discover the appaling condition of Africa's road network.
Poll
<pollsnack hash="q7jlral9" />